President William Ruto officially launched the Hustler Fund yesterday, November 30 in Nairobi.
The fund was one of Kenyan Kwanza's biggest campaign pledge whose aim is to cater for small and micro traders.
President Ruto hailed the fund saying it will put an end to the exploitation of Kenyans by unscrupulous lenders who have been charging borrowers exorbitant interest rates.
"This is a momentous occasion that today we have a product that does not need an application, guarantee, or approval by a committee. It just needs a citizen, his phone or her phone, and a track record and they can borrow as much as they want so long as they keep to a track record," he said.
Hustler Fund Requirements – Who is eligible?
– You must be a Kenyan citizen aged 18 years and above.
– You must also have a valid Identification Card and registered Mobile number with mobile network providers like Safaricom, Airtel and Telkom.
– Also you must have a mobile money account that is either Mpesa, Airtel Money or Tkash, and the sim card must have been in use for more than 90 days.
Noteworthy, the Hustlers Fund primary identifier is the ID number, and therefore one customer cannot use more than one number to borrow.
Hustler Fund registration
To register an account on the platform, one is required to sign up for the fund through the USSD code (*254#) or the mobile app.
They will then be required to accept the Terms and Conditions, then asked to enter their mobile money pin.
Upon completion of these steps, you'll receive an SMS to notify you of your successful registration and the limit assignment.
In case of a failed registration, you'll be notified via SMS.
How to apply for a loan
A registered customer is required to:
(a) Dial USSD code *USSD code# (*254#) or mobile application (safaricom, Airtel or Telcom).
(b) Select the loan request option to view the limit, interest, and loan tenure.
(c) Enter the loan amount and press OK to continue
(d) Confirm loan details as displayed to continue
(e) Enter Mobile Money pin
(f) Receive SMS notifications on Loan allocation with relevant loan information.
The approved loan will be disbursed to your money account where out of the total approved loan amount, 95% shall be deposited to the mobile money wallet.
READ ALSO: Mahustler Huelewana: Young girl encourages DP Ruto in moving poem (video)
What's more, the remaining 5% shall be deposited to your savings account scheme of the Hustler Fund.
As regarding the savings scheme, it will split savings into 70% long-term and 30% short term savings,
As such, 70% of the 5% will go into long term (Pension) and the rest of the 30% of the 5% will go into short term.
For instance if a customer borrows KSh 500,
KSh 25 (5% of Ksh.500) will go into their savings account as below.
KSh. 17.50 (70% of KSh 25) – Will go to pension account.
KSh 7.50 (30% of KSh 25) – Will go to short term savings account.
Importantly, the fund does not have a processing fee.
Loan limit
The Hustler Fund product offers individuals a minimum loan KSh 500 and a maximum of KSh 50,000.
The loan is structured in such a manner that borrowers who repay their loans on time will gt their loan limits increased gradually up to a maximum of KSh 50,000.
For instance, President Ruto's loan limit through the app was rval to be KSh 2200, while that of his deputy Rigathi Gachagua was KSh 1600.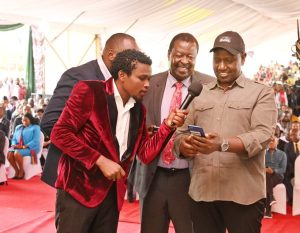 Loan repayment period and interest
The Hustlers Fund loans are to be repaid within 14 days. They are also charged an interest of 8 per cent per annum or 0.02 per cent daily.
For example if an individual borrows KSh 500, he or she will repay a total of KSh501.53 after 14 days.
What will happen to defaulters?
In case, a customer defaults on the 14-day period, a loan recovery and collection process will be initiated.
Firstly, they'll not be eligible to another loan before the repayment.
What's more, 15 days after the date of default, the interest rate will be increased from 8% per annum to 9.5 per annum.
However, if the borrower fails to repay after more than 30 days, the customer loses all the credit scores gotten over the time of borrowing and their Hustler Fund account frozen.
The good thing is, borrowers who default on Hustler loan will still be able to access loan services from other lenders.
This is because their borrowing data will not be shared by credit reference bureaus.
READ ALSO: Safaricom Bonga Points to Expire After 3 Years: All You Need to Know
Also, those who have their accounts frozen can repay the loan in lump sum or instalments, and voila! Begin borrowing again.
Do you have a story you would like us to publish? Please reach us through info@gotta.news