-Little is known about President Museveni "second wife" and the children from his second "marriage."
President Yoweri Museveni is well known. From his rise to the presidency, his 37-year rule, his attractive wife, Janet Museveni, and their four adorable children, to his devotion to his cows, and so much more
Very little, however, is known about President Museveni's "second wife" and the children from his second "marriage," and there is constant controversy over the subject.
Here is everything you need to know about Museveni's rumored second wife.
Museveni second wife name
Museveni's second wife, according to sources, is a woman by the name of Enid Kukunda. She is a tall, middle-aged, curvy woman with a dark chocolate complexion.
She hails from western Uganda's Rubabo County and Rukungiri area, according to sources. Rumours claim she is from the Ankole tribe.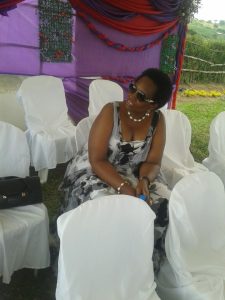 Kukunda prefers to keep her personal life private; therefore, little is known about her.
She is reportedly the mother of two kids with President Yoweri Museveni, nonetheless.
Where did they first meet?
Enid Kukunda is said to have worked at the statehouse in the past; her exact position there has not been made public, but it is likely that this is where she met President Museveni.
Enid Kukunda's current job title and educational background are unclear, but we'll keep you posted once we know.
Are Museveni and his second wife legally married?
There is no evidence supporting the claim that President Museveni and his second wife are legally married.
As of now, Janet Museveni, the first lady of Uganda, is Yoweri Museveni's only officially acknowledged spouse.
It should nevertheless be mentioned that polygamy is both acceptable and widespread in Uganda.
Museveni's second wife's children
Museveni's second wife, Enid Kukunda, is the mother of two grown children: a daughter called Angela Kakishozi, who is a medical doctor, and a son known as Joel, who is an engineer.
Although her son is not well-known, the media is highly aware of her daughter with Yoweri Museveni, Dr Angela Nagasha Kakishozi, who just married her longtime lover in 2022.
On February 26, 2022, the lovely Angela married Gen Henry Tumukunde's son in a formal ceremony at St. Paul's Cathedral in Namirembe.
Although the bride's father, Yoweri Museveni, was not present, her uncle, General Salim Saleh, who is Museveni's brother, was, and he led the bride down the aisle.
Enid Kukunda's appearance in the media
Most recently, she gave a speech on YouTube thanking God for her children's father during her daughter's traditional wedding ceremony.
She acknowledged in her own words that if given a second opportunity, she would pray to God for the same husband and the same offspring.
Current wife
Museveni's current wife, Janet Kataaha Museveni, is a Ugandan politician, educator, and philanthropist. She is presently the country's minister of education and sports.
She has been actively involved in politics since the National Resistance Movement took over in 1986.
Janet and Yoweri Museveni have been married since 1973; they met while they were both students at Makerere University.
READ ALSO: Gen Muhoozi: Museveni Promotes Son to Four-Star General
The couple has four children together: Muhoozi Kainerugaba, Natasha Karugire, Diana Kamuntu, and Patience Rwabwogo.
Do you have a story you would like us to publish? Please reach us at [email protected].