Over the weekend, Uganda President Yoweri Museveni daughter Angela Nagasha and her long-term fiancé Amanua Tumukunde wedded in a colourful wedding in Kampala.
However, what stood out from the wedding was the fact that Museveni did not attend the wedding.
Angela was escorted down the aisle by General Caleb Akandwanaho, alias Salim Saleh who is said to be Museveni's half brother.
But why would Museveni snub his daughter's wedding?
According to Uganda's Buzz Nation, Museveni reportedly shares Angela with a woman identified as Enid Kukunda, who is rumoured to be the president's second wife.
The president's decision to skip the wedding can aptly be termed as moral given he has a wife, First Lady Janet Museveni and recognized children.
Museveni and Enid also share a son identified as Joel Museveni.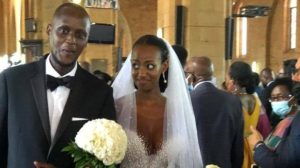 In 2020, at one time, a section of Uganda citizens from abroad was denied entry into the country, but another section led by a young man said to be identified as Ben Kavuya were cleared to access the country.
It was later discovered that Joel disguised as Ben Kavuya to be cleared to access the country.
"Many Ugandans stuck abroad are suffering. 'The airport is closed' they're told. Our request to airlift those in China was rejected
"Yet, those who think they own our country have continued to fly in with relatives & cronies! We must fight on until we're all equal in this country," politician Bobi Wine captioned clearance documents of Angela and Joel.
A user identified Gloria responded to the post claiming to know the real identities of the two.
READ ALSO: You're my boss – Museveni's son Muhoozi heaps praise on beautiful wife
"These two are Museveni's children disguised as Ben kavuya. These children belong to Museveni's other wife called Kukunda Enid, they have everything made for them in uganda straight from big malls etc meanwhile Ugandans suffering in China can't be returned but these 3 can return," she claimed.
Do you have a story you would like us to publish? Please reach us through [email protected]