Granted, most Kenyan politicians are motormouths whose lips become untamable as soon as they sight a camera or microphone in front of them.
The thing is, this calibre of Kenyan politicians tends to forget that some secrets are not to be shared with the public.
After all is said and done, it's said that everything is fair in both love and politics, and politicians themselves are all too aware of this.
Having said that, Gotta News has put together a list of Kenyan politicians with whom you should never share your secrets.
1. Mike Sonko
The former Nairobi governor has been letting the cat out of the bag for a long time.
We all know that everyone who has ever confided in Mike Sonko lives in constant terror that the former governor may release that video or picture.
For example, Governor Mike Sonko made an unsettling assertion at the beginning of February 2021 that former President Uhuru Kenyatta had shown him how to wear goggles after they had smoked marijuana.
Mike Sonko's remarks were a rebuttal to Uhuru's earlier remarks, where the president criticised Sonko for his underperformance as governor.
"This friend of mine didn't say everything. He (Uhuru) is the one who advised me to wear goggles after we had smoked bhang," said Sonko.
The former president had slammed Sonko for wearing ostentatious sunglasses and bragging about his work.
Interestingly, the same Sonko behaviour has also sent a corrupt judge home and spared Nairobians the anguish of demolitions.
In 2014, he played former president Uhuru Kenyatta over the loudspeakers.
READ ALSO: Why the Kenyan Voter is Easily Confused by Politicians
Sonko called Uhuru as national authorities sent bulldozers to demolish residential houses allegedly built on public land in Nairobi.
This quick thinking prevented the South B demolitions.
Sonko posted a video of the incident on November 3, 2023, and stated he didn't regret it.
"And some stupid people ask why I put the former president on speaker phone? I have no regrets, and I don't care."

"I had to do it to rescue the situation at that time, and that's why these estates have stood to date," Sonko wrote on X.
Sonko is also the man behind the "SonkoLeaks" that exposed the brazen rot in the judiciary. The expose specifically focused on High Court judge Justice Chitembwe Said Juma.
The amateur videos released by Sonko as evidence showed Justice Chitembwe receiving bribes to defeat justice.
A tribunal formed by former president Uhuru eventually recommended Chitembwe's sacking in February 2023.
2. Moses Kuria
Moses Kuria, the cabinet secretary for Public Service, Performance, and Delivery Management, is another politician with a reputation for being unrestrained in his public remarks.
Kuria can say anything to get attention. While the CS's political utterances are not always supported by facts, the former Gatundu South MP will still say them and stir things up.
Moses Kuria has made absurd claims against DP Riggy G, Raila Odinga, and Uhuru Kenyatta.
For this particular behaviour, NTV recently nick-named him "Mpyaro," a term referring to someone who speaks mindlessly.
Now don't even think of what would happen if Moses Kuria knew your real secrets.
3. Riggy G
Riggy G, also known as deputy president Rigathi Gachagua, is another politician who has no problem spilling beans in public.
Because of his extreme directness and bluntness, Kenyans have given Riggy G another moniker: "truthful men."
While on the campaign road in July 2022, Riggy G publicly stated that he had assisted Uhuru Kenyatta in getting rehabilitation.
"The late Daniel Moi gave Uhuru Kenyatta to me in the run-up to 2002. He was clueless about everything. He was always drunk."

"It was me who cleaned him and helped him become the president of Kenya," Riggy G said.
4. Junet Mohamed
Junet Mohamed, the MP for Suna East, is another person on this list who struggles with secrecy.
Well, we all recall the memorable jibe in 2016 that messed with Moses Kuria.
"Na niliona siku tunayoingia kwa jela usiku, nilikuwa nafikiri Moses Kuria ni mwanaume. Nikaona kama mak**de imeisha ndani yake. Niliona suruali ya Moses Kuria kama iko bure," said Junet in the legendary jibe.
(I noticed something the night we were detained. I'd always thought Moses Kuria was a brave man. I was surprised when I noticed his balls were shrunk that night.)
5. Peter Salasya
You would be better off with this politician unaware of your secret.
The Mumias East MP has a history of speaking without pondering.
The cheerful MP rarely thinks twice about saying things in public.
For instance, sometimes back then, the MP stunned many when he admitted that he had his eyes set on getting a fellow honourable member pregnant.
What's more, he could unleash your secret during one of his TikTok live sessions.
Early this year, the MP shared his payslip with his supporters.
The slip capped the MP's gross pay at a total of KSh 1,171,525. The deductions column showed the mortgage deductions stood at KSh 563k.
READ ALSO: Corporal Mjinga: Story of Kenyan Cop Shamed for Refusing Bribe
The legislator only receives a net salary of KSh 97,197.80, according to the payslip.
At this point, you know why this politician shouldn't be privy to your secret.
6. Francis Atwoli
Although Francis Atwoli is not a politician, he has extensive experience working with Kenyan politicians.
As the head of the Central Organisation of Trade Unions (COTU), he too gets drawn into politics.
Francis Atwoli has been around since the reign of Jomo Kenyatta. He still has an excellent memory, and he never withholds information.
Thus, all Francis Atwoli needs is an audience and a political platform. If you find yourself on the other side, you've already lost.
7. Miguna Miguna
Miguna Miguna is not afraid to reveal the secrets of those he detests.
For example, Miguna disclosed in Peeling Back the Mask that "Raila Odinga drinks like fish."
Remarkably, the same man repeatedly asserted that Raila was not an engineer, despite his (Raila's) claims to the contrary.
To date, Miguna claims Raila dropped out of school in class six after stoning his teacher, "Mr. Oremo."
In his legendary fashion, Miguna deconstructed Sonko and Kidero at the Nairobi gubernatorial debate in the run-up to the 2022 elections.
8. Aden Duale
The former MP for Garissa Township has courted controversy on numerous occasions.
Duale discloses in his biography, For The Record, how MPs have had young girls smuggled to them during official retreats.
He notes that the young women who are christened as laptops are smuggled to the apartments by their drivers and security.
The former MP for Garissa Township also describes betrayal as the currency of politics with striking detail.
Duale pledged in 2015 to identify the supporters, combatants, and backers of the al-Shabab insurgent group in Somalia.
The then-Garissa Township MP made the pledge following the massacre of 147 students at Garissa University College by al-Shabab terrorists.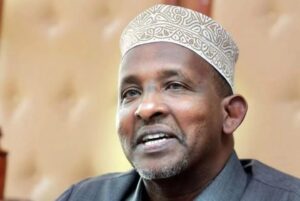 Duale hasn't yet, nevertheless, produced the list.
Duale declared in October 2022 that he lacked the ability to generate the list.
READ ALSO: Kenya's 8 funniest MPs revealed
This unfolded during his appearance before parliament to undergo vetting for the role of Defence Cabinet Secretary.
"I don't have the capacity and the constitutional mandate to investigate who the financiers are. That is the job of the Director-General of the National Intelligence Service," said Duale.
Oscar Sudi
The Kapseret MP is known for courting controversy, and it's impossible to predict how far he will go to reveal the secrets of his opponents.
Sudi, who began his career in Uasin Gishu County as a tout, has a reputation for taking political rivals hard.
The politician recently dressed down Uasin Gishu Governor Jonathan Bii, popularly known as Koti Moja.
Sudi revealed that the governor had acquired a new set of teeth. He also went into great detail to reveal how Koti Moja had suffered.
Huyu jamaa aliomba kura ya kwanza akaanguka, akaomba kura ya pili akaanguka, akaomba kura ya tatu akaanguka. (This man failed three times before he was elected governor in 2022.)

Sasa juzi akapata ugavana. Sasa niliona wengine kwa mtandao wakisema umeona gavana ameenda kubadilisha meno.

(Now that he's governor, I've seen some people online say that the governor has acquired a new set of teeth.)

"Mimi nauliza nyinyi, mtu umekuwa gavana kama meno yako ni mbaya mbaya kama ya Sudi, si unaenda kutengeneza. Kwani shida iko wapi?"

(I'm wondering, what is wrong with acquiring a new set of artificial teeth if the one you had was bad?)
Governor Bii, however, promptly reprimanded Sudi.
"Health concerns are private matters. You should be aware that any comments made about your personal health in public are personal attacks."
PAY ATTENTION: Help us continue to bring you more educational and entertaining content. Click this link to join our membership. You can cancel or pause anytime.