-The Busoga royal wedding over the weekend caught the attention of millions across the world
-The occasion saw His Majesty King (Kyabazinga), William Gabula Nadiope IV, exchange vows with Inhebantu Jovia Mutesi
-Jovia is now the 5th Queen of Busoga and therefore the Inhebantu (mother of the people)
-A staggering 25,000 guests graced the occasion
His Majesty Kyabazinga William Gabula Nadiope IV got married to his love, Jovia Mutesi, in a lovely ceremony.
Thousands of people in the Busoga Kingdom and millions across the world followed the much-publicised event.
Kyabazinga and Jovia exchanged solemn vows under the guidance of His Grace, Dr Samuel Steven Kazimba Mugalu.
Mugalu is the Archbishop of the Church of Uganda.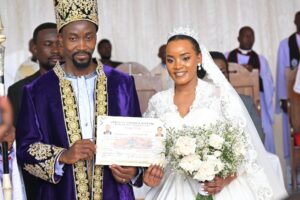 The Kyabazinga pledged his commitment to Inhebantu at 01:47, and Jovia followed suit at 01:50. A remarkable 25,000 people attended the event, and millions followed online.
Archbishop Mugalu hailed the thousands who came out in record numbers to witness the royal wedding.
In addition, he hailed the institution of marriage as sacred and urged Ugandans to uphold these values while shunning behaviours like homosexuality.
Vice President Jessica Alupo represented President Yoweri Museveni, who wished the couple a happy marriage.
Isebantu
In addition, Vice President Alupo personally handed a handsome gift of 20 cows in cash to the newlyweds.
The Isebantu (father of the people), Kyabazinga Gabula Nadiope, appeared at Budhumbula Palace in Kamuli at 10:55.
Waving to the excited crowd, he got into a waiting Toyota Land Cruiser and started the journey to Jinja's Christ Cathedral, Bugembe Church, where the marriage vows were to be exchanged.
The subjects' joyful faces followed the motorcade with happy songs and drum beats.
The Kyabazinga would periodically drop the windows as a gesture of respect to recognise and wave to the cheering fans. At last, at 12:04, the royal horn sounded to announce Kyabazinga's arrival at the cathedral.
Another short wait, this time for the bride Jovia Mutesi's arrival, began at 12:13 with the cathedral's grand entry.
At 12:30, she graced the occasion by driving her Range Rover Sport into the cathedral in a stately manner.
Jovia was born in the Mayuge district and is the daughter of former RDC Stanley Bayoole.
Among the esteemed guests were notable individuals such as the Omugo of Bunyoro, Sylvia Nagginda, the queen mother of Tooro, Prince Sicalo of Swaziland, and Best Kemigisha of Buganda.
First Son General Muhoozi Kainerugaba, First Deputy Prime Minister and Minister for East African Affairs Rebecca Kadaga, and former Vice Presidents Edward Ssekandi and Specioza Wandira Kazibwe were among the political figures.
READ ALSO: Uganda: Man Marries 7 Wives on Same Day
The royal couple thoughtfully treated their guests to a lavish royal feast at Jinja's Igenge Palace, adding to the occasion's grandeur.
PAY ATTENTION: Help us continue to bring you more educational and entertaining content. Click this link to join our membership. You can cancel or pause anytime.