Qabale Duba, a Kenyan nurse who recently won the first Aster Guardian Global Nursing Award, has dedicated it to her late brother.
Anna Qabale Duba dedicated the award to his departed brother Malicha Duba Sora, noting that he played a pivotal role in her quest to become a nurse.
She noted that her brother oversaw her entry to Kenya Methodist University (KeMU) where she pursued her nursing career.
Qabale also disclosed that her brother was brutally killed when she was in the first semester of her studies.
"I dedicate this Global Nursing Award to my late brother Malicha Duba Sora, he used every coin he had to take me to a private Kenya Methodist University to pursue my nursing career
"Unfortunately he was killed while I was just in the first semester of my study," she recounted.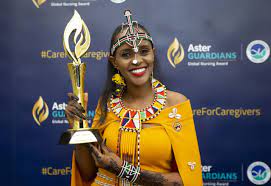 Qabale who is stationed at Marsabit County Referral Hospital won the award for endorsing education and campaigning against Female Genital Mutilation (FGM) in her community.
The nurse also pocketed KSh 29 million in prize money in the ceremony which was held in Dubai.
Speaking after receiving the award, Qabale disclosed that through her foundation, Qabale Duba Foundation, she built a school in Marsabit which offers classes to children and adults.
"In my wildest dreams I never thought that one day I would be celebrated on a global platform such as this. I come from a place where the illiteracy level is quite high, after having a taste of education I decided to go back and enlighten my people through education
"Illiteracy allows harmful cultural practices such as FGM to thrive in Northern Kenya," she said.
READ ALSO: Traveling to Dubai? Here's 15 Things You Should Know
Qabale also thanked her husband, friends, family and colleagues for supporting her medical journey.
Do you have a story you would like us to publish? Please reach us through [email protected]