Keroche Breweries' chief executive officer, Tabitha Karanja, has weathered many storms to save the multi-billion-shilling company.
The business mogul has seen it all, from being pursued by the Kenya Revenue Authority (KRA) over tax evasion allegations to being fought by her co-wife in business ownership.
In 2013, Tabitha was embroiled in a property row with her co-wife, Jane Wambui Muigai, with the latter demanding a share of Keroche, the biggest privately owned brewery in Kenya.
It all started in 1996, when their husband, Joseph Muigai Karanja, divided his wealth equally between them.
Just like in the biblical Parable of the Talents, each wife invested the wealth in a manner she wished.
Tabitha single-handedly invested her share of the inherited property in Keroche, which has since grown into a multibillion-dollar empire.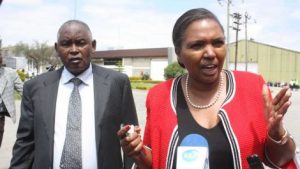 It is unknown what her co-wife Wambui did with her share, but it seems she misappropriated it as she moved to court in 2013, demanding a share of the wealth generated by her husband and Tabitha through Keroche.
However, Justice Mumbi Ngugi dismissed her request, saying Tabitha invested in the company unaided, as even their husband Karanja is listed as the chairman of Keroche's board and not a shareholder.
"She is a shareholder, director, and chief executive officer of Keroche Industries Ltd., which she states she built singlehandedly by investing her money into the business to which the petitioners (Wambui) did not contribute at all," the court was told.
In the ruling, Mumbi argued that there are no circumstances under which a private citizen like Tabitha should be compelled to provide for another adult citizen like Wambui, who does not have any disability.
At the moment, Tabitha is involved in a bitter tax war worth KSh 322 million with KRA, which resulted in the brewery's closure on February 1, 2022.
READ ALSO: Anerlisa Muigai Reacts as KRA Shuts Down Keroche Again
She has also declared her interest in the Nakuru senatorial seat in the forthcoming August 9 General Election.
Do you have a story you would like us to publish? Please reach us at [email protected].