In his heydey, Daniel Moi dominated the day's news and was bashed in equal measure as he was praised in public.
However, the late former president's disappearance in the last month of January in 1995 sparked all manner of speculations.
His detractors started off a rumour that the late president was no more. In bars in opposition zones, patrons discussed in hushed tones with claims the late president had succumbed to an unknown disease.
The palpable anxiety emanating from absence of man known for ziaras (development visits) across the country forced the political opposition and the diplomatic community to demand to know the whereabouts of Moi.
It must be remembered Moi disappeared two weeks to the arrival of the International Monetary Federation (IMF) delegation in Nairobi and a caucus of young turks-Mwangaza Trust- who had gone to court to demand registration.
The Mwangaza Trust and was fronted by, among others, Paul Muite, Anyang' Nyong'o and journalist/political activist Robert Shaw. Others were Mukhisa Kituyi, Kivutha Kibwana and Kiraitu Murungi.
The Mwangaza trust aimed to galvanise the opposition ahead of the 1997 poll.
IMF delegation was scheduled to visit Kenya in mid-February 1995 on a fact-finding mission from which a decision would be made on whether or not to resume funding for the country.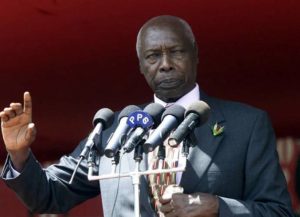 As anxiety took the country hostage, then US Ambassador to Kenya Aurelia Brazeal requested a routine call on Cabinet Minister and Kanu secretary-general Joseph Kamotho.
The meeting happened one of the journalist from international who had tagged on with the diplomat asked about the rumours circulating to the person of the president.
However, Moi would surface shortly after, barely an hour after the ambassador had left Kamotho's office.
"Within an hour of the US ambassador leaving Minister Kamotho's office at Jogoo House on Harambee Avenue, the presidential motorcade pulled up a few metres away at the Harambee House office of the President," writes journalist Kamau Ngotho in a piece published by Nation.
Within hours, a crowd gathered and as it is norm with politicians, the head of state addressed a crowd near Harambee House.
"Do I look a sick man? Do I look like one who has come back from the dead?" he posed to ululating crowds pushing to shake his hand.
Two days later, the Moi administration would come up with 'Brig' John Odongo plan to overthrow the government, a narrative that was used to deny Mwangaza Trust registration.
READ ALSO: Daniel Moi dies aged 95
That was the professor of politics for you! Combining cunning and one of the 48 Laws of Power.
Parts of this story are derived from a past Nation's report by veteran journalist Kamau Ngotho.
Do you have a story you would like us to publish? Please reach us through info@gotta.news