-Pastor Ezekiel Odero has constructed a helipad, a restaurant, and an international school on his expansive church grounds.
-He is well-known for his booming baritone voice and distinctive all-white attire, and he's rarely spotted without a large Bible in his hand.
In Kenya, people have wildly different ideas about Pastor Ezekiel Odero.
Pastor Ezekiel is arguably the most popular preacher in Kenya right now, and his supporters see him as a true man of God.
To these people, the charismatic preacher has helped many overcome seemingly insurmountable obstacles like poverty and HIV.
His critics, on the other hand, portray him as little more than a cunning con artist preying on Kenya's poor.
Just days after the discovery of dozens of bodies connected to another church in Kilifi, police arrested Pastor Ezekiel on Thursday, April 27, in connection with the "mass killing of his followers". The authorities also shut down his New Life Prayer Centre and Church in Mavueni, Kilifi.
Pastor Ezekiel was questioned about the alleged indoctrination of his followers and his friendship with Pastor Paul Mackenzie, the proprietor of the Shakahola farm in Kilifi, where more than 100 bodies of his followers who starved to death were discovered.
The man of the cloth, however, is gaining attention for other reasons, one of which is the vehicle he chose to enter the Coast Region Police headquarters in, an Lx 570 Lexus.
At his church in Mombasa and other parts of the nation, Pastor Ezekiel is renowned for his opulence and ability to draw large crowds.
Early years
Pastor Ezekiel was born in the 1970s. He was raised in Kenya's Homabay County.
He was raised by his mother and grandfather and was from a poor family.
Pastor Ezekiel started his education at the Ngodhe Island Primary School in Rusinga.
But because of his family's poor economic standing, he frequently went fishing at night to help supplement his family's income.
His performance at school suffered as a result of the nighttime activities. In his KCPE exams, he only managed 210 out of a possible 700 marks.
In an effort to better his life, Ezekiel's grandfather, Daniel Odero, a former employee of the GoK, relocated with him to Seme in Kisumu.
He registered him at Yeye Primary School so that he could focus on his academics there. Pastor Ezekiel consequently passed the KCPE examinations when he retook them, which allowed him to enroll in Miwani High School in Chemelil, Kisumu.
Ezekiel took his KCSE exams after four years at Miwani High School and got a mean score of C. He then traveled to Mombasa, where he enrolled in a Chemical Processing Technology course at Mombasa Polytechnic, which is now the Technical University of Mombasa.
However, he had financial issues and left the university after his second year.
Ezekiel Odero was brought up in a devoutly Christian household. He sang in the choir at the Seventh-Day Adventist Church.
At the church, he also acquired keyboard playing skills. His Christian upbringing paved the way for a later career in church ministry.
Moved to Mombasa
Following his high school education, Pastor Ezekiel moved to Mombasa and worked as a mjengo man (construction worker).
He attended the Maximum Miracle Church in Mombasa, which is led by Bishop Pius Muiru.
Ezekiel Ombok Odero began his career teaching choir and playing the keyboard before being promoted to teach praise and worship.
Pastor Ezekiel is still referred to with affection by Bishop Muiru as his "spiritual son."
The preacher (Ezekiel) has admitted in the past that he frequently consults Bishop Muiru when he is having a problem.
Pastor Ezekiel wife and children
Ezekiel Odero is married to his humble wife, Pastor Sarah Odero. The two met when Ezekiel worked as a mason in Mombasa.
After spending time together, their relationship developed into a romance, which prompted Ezekiel Odero to make a marriage proposal.
Ezekiel and Sarah Odero have been married for over a decade and are blessed with three children.
Two of the children are their biological kids, while one son was adopted after his brother's wife died giving birth.
The couple and their children live in Mavueni, Kilifi, in the same compound where the pastor's church is.
Pastor Ezekiel Odero net worth
What is Pastor Ezekiel Odero net worth? The New Life Church lead pastor is said to be one of the wealthiest pastors in Kenya.
Although he hasn't disclosed his exact net worth, he recently bought a 65-acre plot of land where he is building magnificent facilities, which is evidence of his wealth.
On his enormous church property, Pastor Ezekiel has built a helipad, a restaurant, and an international school.
Pastor Ezekiel draws sizable crowds; his church, which is complete with a hotel for believers "from across the globe," is located south of the coastal town of Malindi and has seating for 40,000 people.
He claimed to be the "chosen one" in a December interview with the NTV news channel.
"People crowd my church because I am the chosen one," he said.
Nearly 450,000 people have subscribed to his YouTube channel, which is replete with testimonials from Kenyans who say that Pastor Ezekiel Odero has healed them of everything from cancer through prayer to blindness.
In a previous interview with a local newspaper, Ezekiel admitted that he sold merchandise to his flock, including specialised prayer clothing, handkerchiefs, holy water, and anointing oil.
"People crowd my church because I am God's chosen one. When I pray for my anointing oil or the holy water, those who use it end up healed or have their problems solved," he said.
Pastor Ezekiel cars
Pastor Ezekiel personally drove his white Lexus Lx 570, which is worth somewhere between KSh20 and KSh27 million, to DCI in Mombasa.
The LX-570 boasts comfort, stability, and speed.
A 2020 model of the car would cost between KSh23 million and KSh25 million in Kenya.
READ ALSO: Pastor Ezekiel Grilled by DCI
The vehicle's powerful 5,700-cc engine, which accelerates from 0 to 100 kilometers per hour in seven seconds, is represented by the initials "570."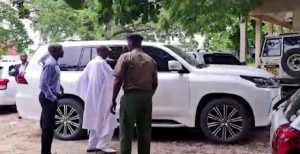 The LX-570 weighs 2,600 kg and is a reliable vehicle.
The preacher owns many other vehicles, some of which were donated to him by his followers.
PAY ATTENTION: Help us continue to bring you more educational and entertaining content. Click this link to join our membership. You can cancel or pause anytime.