Barbara Odudu Magoha has shared intimate details of her four-decade long marriage with her now-deceased husband, Prof George Magoha.
It is a story that offers a glimpse of what a life well lived looks like and will inspire generations to come.
Speaking on Tuesday, January 31, after former president Uhuru Kenyatta visited them at their Lavington home, Barbara disclosed that she loved Magoha because he believed in family and always encouraged her.
"Exactly one month after we met, he started telling people that we were going to get married." "And that was the first time we had a quarrel."
"I said how can you do that?" "He said, I know you would not accept because I'm not a Nigerian. So you go and tell them why you cannot marry me," revealed the widow.
She said that during her pregnancy, her blood pressure problem worsened, and that is why his deceased husband suggested that they put having children to rest.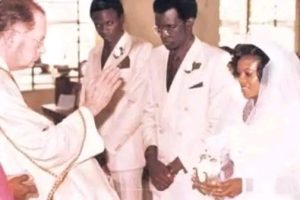 Magoha and Barbara were blessed with a son, Michael Magoha, after their 1982 marriage.
She added that before leaving for work, Magoha would make her a fruit juice.
"And when I had my son because of blood pressure and everything, I did not have any milk. You can't imagine by 0630 hrs, I had two litres of fruit juice, squeezed by him every day before going to work," she said.
She also mentioned how close her late mother and her spouse were.
"It felt like he had lost a piece of himself when my mother passed away. In church, he nearly broke down in church," she added.
There were times when the couple would open up about their deepest concerns.
Jovial and kind
He was very jovial. He would say, "I have to go before you." Because I won't survive if you leave before me."
"When I was extremely ill," she stated, "I would pray to God to recover for his sake because if anything were to happen, I know everything would be gone in 10 minutes."
Also, Dr Barbara praised his late husband as having a true love for his family.
His family came first, he always asserted. He valued the family. He always said, "If my family is down and I'm up, then I'm down."
She added that her husband was kind and genuinely concerned for her welfare.
"I would claim to have a headache when we were arguing. He would declare that our disagreement was settled and then take care of me" She said.
She added that the Covid-19 epidemic was their marriage's most challenging time.
She revealed at the time that due to the nature of his job, Magoha had to travel frequently and interact with people.
"I advised him that if this is the path you were supposed to take, you will follow it. We have to take a chance "She said.
At the moment, Dr Barbara Magoha serves as a consultant gynecologist and obstetrician at Kenyatta National Hospital. Additionally, she teaches at the University of Nairobi.
Michael Magoha, the only child of Barbara and Magoha, attended Strathmore and Brookhouse schools before earning his medical degree from the University of Nairobi in 2009.
At the moment, Michael works as a neurosurgeon at the Kenyatta National Hospital.
Prof Magoha experienced cardiac arrest on Tuesday, January 24, and later passed away at the Nairobi Hospital.
No nonsense
Many people have described George Magoha as tough-talking, no-nonsense, honest, tough, and selfless. Magoha was instrumental in putting an end to exam cheating in Kenya.
What's more, he never hesitated to voice his opinion on significant national debates affecting the education sector.
Kenyans praised him for his direct approach to combating the cartels that cheat on exams in the educational system.
One of the best-funded industries is education, yet the cartels at the ministry of education used to make billions through bogus school funding.
Taking advantage of the progress established by his predecessor, Dr Fred Matiang'i, Magoha, who assumed control of the ministry in 2019, continued to crush the cartels.
READ ALSO: George Magoha: Life and Times of Peerless Surgeon, Administrator and Technocrat
Even though the late scholar and surgeon's middle name, "Omore," means "the happy one," he rarely smiled.
Magoha will be laid to rest in his Siaya County home On February 11.
Do you have a story you would like us to publish? Please reach us through [email protected]