The late Professor George Magoha will be remembered as the Cabinet Secretary who ended exam cheating in Kenya.
Tough-talking, no-nonsense, honest, strict, and selfless are just among the attributes used to describe Magoha.
Magoha exhibited intellectual rigour at all times and never shied away from taking a stand on important national discourses in education sector.
Magoha, revered and feared in equal measure, has left an indelible mark in every leadership position he had been appointed to.
However, it was his tenure as the Cabinet Secretary for Education that got Kenyans to witness " The Bulldozer" in action.
His no-nonsense approach to tackling the exam cheating cartels in education earned accolades from Kenyans.
Education is one of the best-funded sectors and the cartels in the education ministry were making billions through fictitious school allocations.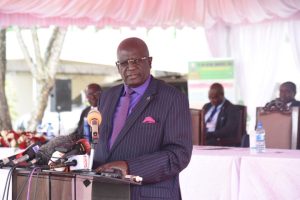 The cartels also made money by doctoring the results of schools in exchange for a bribe. Such schools would in turn raise fees after the results.
Riding on the gains made by his predecessor Dr Fred Matiang'i, Magoha who took over the ministry in 2019, went ahead to stamp the cartels into oblivion.
Matiangi was appointed as the Cabinet Secretary for Education, Science, and Technology in December 2015.
In the years that both Matiang'i and Matiang'i were at the helm of the education ministry, the number of As reduced considerably.
Also, there were no claims of cheating and many celebrated the two for returning sanity to the ministry.
What's more, Magoha implemented bold reforms such as the 100% transition policy, which ensured that all students who sat for their KCPE exams would be admitted to secondary school.
On the same scale, he stood with the Competency-Based Curriculum, which focuses on developing practical skills in students. This is despite massive opposition from various stakeholders.
Academic journey
Prof George Albert Omore Magoha, a medical doctor and a surgeon par excellence was born in Siaya County in 1952.
He undertook his primary education in Yala and Nairobi and thereafter joined Starehe Boys Centre and Strathmore College for his high school education.
He then proceeded to the University of Lagos where he pursued a Bachelor of Medicine and Bachelor of Surgery (MBChB).
At the time of his demise, Magoha was a top-grade professor of Urological and Transplant Surgery trained in Nigeria, Ghana, Ireland, and the United Kingdom.
Magoha, who fondly described himself as a plumber (to mean urological surgeon) joined the University of Nairobi in 1988 as a lecturer in Urological Surgery.
He would go on to become a fully-fledged professor 12 years later in the year 2000.
On his path leading to full professorship, Magoha also served as the Chairman of the Academic Department of Surgery, Dean of the School of Medicine, and Principle of the College of Health Sciences.
He would rise to the position of UoN Vice Chancellor in 2005 which he held until 2014.
As UoN VC, Magoha is credited with bringing back sanity and accountability at the university's finance department as well as quality teaching and discipline of university students and staff.
For instance, the students' strikes at the university reduced considerably and complaints of missing marks by students disappeared.
In 2016, he was appointed to Chair the Kenya National Examination Council (KNEC) where he also introduced a raft of changes.
During Magoha's time at the helm of KNEC, cases of exam leakage, cheating, alleged cartels in the sector, and questionable marking techniques drastically reduced.
In his memoir, 'George Magoha: Tower of Transformational Leadership,' Magoha notes his 'rising star' in leadership was mainly due to his selfless nature. Notably was his penchance for undertaking what most would see as 'lowly' duties and to mentors who took notice of this.
Magoha at one time served as the chairman of the Kenya Medical Practitioners and Dentists Board.
He also served as chairman of the Association of Medical Councils of Africa (AMCOA).
Prof George Magoha is survived by his wife, Dr Barbara O Magoha, and son Dr Michael Magoha.
Prof George Magoha quotes
Prof Magoha was not just a strict disciplinarian, he was endowed with a great sense of humour and jovial demeanour.
He would often crack jokes during press conferences, and speeches, making him a beloved figure among Kenyans.
Here are some of his memorable quotes:
1. Prof Magoha on Euthanasia in 2015: " Euthanasia is illegal in Kenya. We orthodox physicians shall treat and until such time someone stops breathing we are not allowed to assist a patient to die,"
2. Regarding parents' obsession with children getting As in 2016: "If you think that you need an A to make it in your life then that is the second stupidity that you have to get out of your system"
3. During vetting by Parliament for the CS position in 2019:
"I believe I was appointed to this position because of my ability to serve. If I was appointed to represent the Jaluos then I would ask you not to approve my appointment"
4. In 2019 during vetting in Parliament:
"I do not trust anyone! I don't trust myself too! So don't trust me, let's just work!"
Still, in 2019, he said:
5. "Everything I have ever touched I always have succeeded, failure has never existed in my vocabulary,"
6. In 2021: "You don't need to go to National schools to pass KCSE."
On the role out of Competency-Based Curriculum:
7. "I want to encourage everybody that as we move through this journey which nobody says is going to be easy. Help us fill the glass rather than removing water from the glass with some straws."
8. On teenage pregnancies
"Any female child who is a learner who is pregnant or who was blessed with a child must come back to school. We shall not mince words. We will work with the Ministry of Interior."
9. On early marriages
"We are also sending a stern warning to some areas of the country which still have a habit of marrying small female children that we will come and take your wife away from you and take her back to school."
10. Regarding money, Prof George Magoha said:
"Those who have worked with me know that I am proud of what I am and what I have and it is not money. People who have money are very poor…can we ensure that the children receive their results and remain rich because what they have is bigger than money. The hope, and the fact that God has given you life."
READ ALSO: Prof George Magoha Dies at Age 71
11. Responding to politicians: "I am not a politician and I don't desire to be one. By the grace of God, I am just a technocrat. The weakness I have is that I am just a worker."
Do you have a story you would like us to publish? Please reach us through info@gotta.news