Deputy President William Ruto has recalled an instance where he engaged President Uhuru Kenyatta in a heated confrontation.
Nation reported that the two engaged in the heated exchange that nearly turned physical hours after the annulment of their 2017 election win.
Speaking in a meeting with Kikuyu elders at his official residence in Karen, Nairobi, DP Ruto said Uhuru was distraught over the annulment that he nearly gave up.
The DP said it took his insistence for Uhuru to accept to run again for their second term in office after their meeting at State House.
"So, ndiyo huyo… Oh, sasa, hii maneno, sijui nini, mimi sitaki, mimi nataki kuenda Ichaweri, sasa mimi sitaki, wacha tuachane na hii kitu," DP Ruto recalled what Uhuru said.
DP Ruto said were it not for the respect that the has for Uhuru he would have slapped him.
"I looked at him and told him 'you!' It's only that I was being respectful, I would have slapped him. How could we just quit," he said.
He said he compelled Uhuru to take a keen interest in the Supreme Court ruling which was then led by former Chief Justice David Maraga.
"I had told the president to take a keen interest. He assured me that he was in-charge and everything was fine. In reality, the door had been left wide open and some people went in and spoilt everything. Isn't that so," DP Ruto said.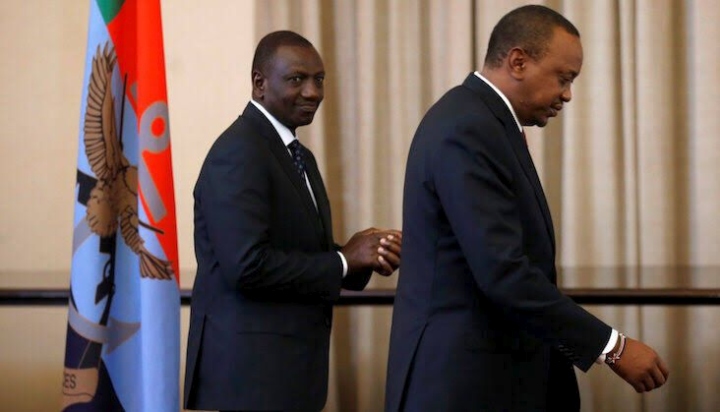 After the tense confrontation, they both left for a public rally at Burma Market where Uhuru made the 'we shall revisit' remarks.
"Before the Supreme Court ruling, I was the president-elect but Maraga and his team have declared the election as null and void. I am the incumbent President with full powers. Maraga should know he is dealing with a sitting President," Uhuru said at the time.
GOTTA.news had earlier reported that Ruto had allegedly offered ODM leader Raila Odinga the Deputy President slot if he helped him impeach President Uhuru Kenyatta.
Suna East MP Junet Mohammed claimed the DP also offered Raila and his team half of all senior government positions.
Mohammed said DP Ruto wanted Uhuru out of the office just days after the controversial 2018 General Elections citing signs of betrayal from the Head of State.
"The President hosted a Jubilee parliamentary group meeting at State House soon after he was declared the winner. In that meeting, it became clear that the honeymoon with his deputy was over
READ ALSO: Revealed: Raila Met Ruto But Failed to Agree on Uhuru's Impeachment Plot
"Kenyatta told his party's rank and file that he would not share power with anyone. The remarks alarmed his deputy as it meant it would not be business as usual," the MP said.
Do you have a story you would like us to publish? Please reach us through [email protected] or call/SMS +254 731 469269