The United Arab Emirates' ruler Sheikh Khalifa bin Zayed Al Nahyan has died.
In a statement, UAE news agency announced that the long-ailing ruler took his final bow on Friday, May 13.
Sheikh Khalifa bin Zayed Al Nahyan died aged 73.
Following the tragedy, UAE's Ministry of Presidential Affairs directed that flags will be flown at half mast, further announcing a 40-day period of mourning.
A three-day suspension of work in all ministries and the private sector was also announced beginning Friday.
"The Ministry of Presidential Affairs condoles the people of the UAE, the Arab and Islamic nation and the world over the demise of His Highness Sheikh Khalifa bin Zayed Al Nahyan, the president of the UAE," a statement from state news agency WAM read.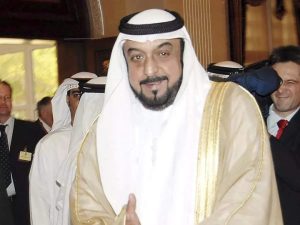 Khalifa suffered a stroke and underwent surgery in 2014 and he has rarely been seen in public since then.
According to CNBC, his role became ceremonial although he still issued orders, and his brother, Abu Dhabi Crown Prince Sheikh Mohammed bin Zayed, was seen as the UAE's de-facto ruler managing the country's day-to-day affairs.
Khalifa took up the presidency in 2004 after his father, Sheikh Zayed bin Sultan Al Nahyan passed away.
Before taking up the presidency, he was crown prince of Abu Dhabi and head of Abu Dhabi's Supreme Petroleum Council.
During his reign, Khalifa was deemed one of the richest monarchs in the world, controlling 97.8 billion barrels of oil reserves.
READ ALSO: Traveling to Dubai? Here's 15 Things You Should Know
He was also the chairman of the Abu Dhabi Investment Authority which manages KSh 101.6 trillion in assets, the largest amount managed by a nation's head of state in the world.
Do you have a story you would like us to publish? Please reach us through info@gotta.news