-Lawyers Cliff Ombeta and Danstan Omari nearly cracked when Bishop Pius Muiru began speaking in his distinctive voice.
-The two are part of Pastor Ezekiel Odero's defence team
Pastor Ezekiel Odero's lawyers, Cliff Ombeta and Danstan Omari, were forced to contain their laughter earlier this week as Bishop Pius Muiru addressed the media in Mombasa.
The two lawyers nearly cracked when Bishop Muiru of Maximum Miracle Centre began speaking in his distinctive voice.
Bishop Muiru said Pastor Ezekiel responded that he wasn't involved in any way with the Shakahola Cult when he privately questioned him if he was a part of the cult that brainwashed members to starve in order to meet God.
"I've asked Pastor Ezekiel, my spiritual son, to tell me the truth regarding the accusations leveled against him." He has assured me that the claims are false in all respects.

Bishop Pius Muiru added, "He further told me that if the legal system is just, I will be released."
Bishop Muiru's distinctive voice may have brought back memories of the "Kuna Nuru Gizani" program on KBC TV, which nearly made the two start laughing.
Danstan Omari appears to be attempting to maintain his composure in the video by Nation. Cliff Ombeta, who is a bit liberal, occasionally smiled, just like the other people in the background.
If the reactions in the video are to be believed, Bishop Muiru's voice didn't just amuse the two laywers.
Here are a few comments from netizens:
Samuel Mwangi: I used to hear that voice, nashika radio for healing and prosperity. Or maybe it worked; who knows?
Vincent Chepkelyo: Aki, it is as if I'm listening to KBC radio. Kuna Nuru Gizani, karibu nishikilie simu vizuri niombewe ptoh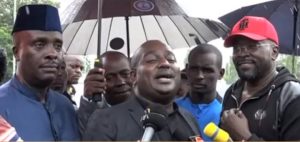 Princess Pesh: "I remember those days when I used to listen to KBC Kuna Nuru Gizani."
Mungai Stephen: I just saw this, and then I remembered how we held the radio on a Saturday evening as Pastor Muiru prayed for us to get saved.
Mutwiri Kirema: Pst Pius used to have mega rallies all over the country, healing people and performing miracles; what happened to him, ama aliokoka?
READ ALSO: Shakahola: Nigerian Man Recounts Horror of Losing Wife to Mackenzie's Cult
Vin Cenzo: You are reminding us of good times back in KBC when my grandfather could not allow us even to clear our throats so that your message in the sermon could not pass him.
Charles Gitau: Is Pius Muiru praying or talking am confused, kidogo.
Pastor Ezekiel was arrested on Thursday last week over links with the Shakahola Cult.
Police say that there is credible information linking him to the bodies exhumed at Shakahola in Malindi, Kilifi County.
They added that there are several followers of his ministry whom they believe died in their quest for salvation.
Watch Bishop Pius Muiru's interview with Nation below:

Do you have a story you would like us to publish? Please reach us at [email protected].