-Zachariah Kariuki aka Mr KK Mwenyewe, became popular for his convincing imitation of Deputy President Rigathi Gachagua.
–It has now emerged why DP Gachagua, aka Riggy G, ignored his imitator.
If Zachariah Kariuki's impression of DP Rigathi Gachagua had impressed the latter, his life would be considerably better off today.
Unfortunately, Kariuki, who uses the online monicker Mr KK Mwenyewe, only succeeded in getting the deputy president to ignore him.
In September 2022, the Kisii University student, at 22 years old, shot to prominence and amassed thousands of supporters.
One commenter claimed that KK Mwenyewe sounded more authentic than the deputy president himself.
The commentator stated, "I believe Rigathi Gachagua is the one who copies him."
Even so, KK Mwenyewe aspired to meet Rigathi Gachagua, who is renowned for lavishly rewarding people he likes.
Even though netizens pushed DP Gachagua to acknowledge Mr KK Mwenyewe, this was not forthcoming, and it never occurred.
However, Gachagua would later meet Ivy Chelimo, the young lady who gave him the moniker "Riggy G."
A source who travelled around with the DP has revealed to GOTTA.news why Riggy G ignored his imitator.
"One of us showed him (Gachagua) one of the clips of KK Mwenyewe, and he just smiled," said our source.
The source, who asked to remain anonymous for fear of reprisal, stated that all signs initially pointed to DP Gachagua meeting and rewarding KK Mwenyewe.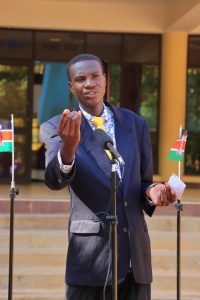 "Riggy G is a very kind and jovial person. He never misses an opportunity to reward individuals he likes," added our source.
Despite a nearly flawless portrayal of the deputy president, there was one element that caused the deputy president to overlook KK Mwenyewe.
What led Riggy G to ignore KK Mwenyewe?
The source said that Riggy G never liked the portrayal of him as untidy.
"He abhorred the filthy coats that KK Mwenyewe wore," said our source, adding that DP Gachagua commented on one of the videos:

"Sasa huyu kijana ningemsaidia lakini sasa amenionyesha kama mtu mchafu." ("I'd have rewarded this young man, but I don't like how he represents me as a scruffy, untidy, and uncouth fellow.")
Our source, who has known Gachagua for several years, described him as a man who seldom breaks his promises.
He remarked, "We who know the DP realized that he had closed that chapter as soon as he said that."
And DP Gachagua proceeded to ignore the young comedian as he appealed for assistance to pay the KSh 10,000 fee balance in late October 2022.
It was Nairobi Governor Johnson Sakaja who stepped in to clear the balance.
Prior, the comedian had shared a copy of his fee structure, indicating his balance. He noted that against an invoice of KSh 29,400, his family managed to raise only KSh 15,500.
KK Mwenyewe wore better clothes while filming the videos in the days that followed, but it seemed that Gachagua had made up his mind to disregard the budding comic.
Interestingly, DP Gachagua had two weeks earlier met Ivy Chelimo, who had coined his new nickname, Riggy G.
"It's not a bad name. It sounds melodious. The youths have taken to the name, and it is good that they are connecting with the country's leadership in their own way," said DP Gachagua.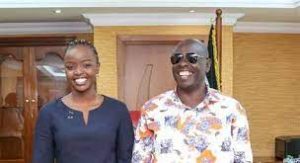 Chelimo currently works at the office of the deputy president, where he receives a six-figure salary and other benefits.
KK Mwenyewe's rise to fame
KK Mwenyewe has garnered a large following due to his flawless recreation of Gachagua's accent type, mannerisms, nuanced facial expressions, and other characteristics.
READ ALSO: List of 40 Most Loved Celebrities in Kenya 2023
The budding comedian, who also produces other types of content, claimed in an interview with a local publication that his friends and other comedians encouraged him to take the chance to play the DP.
"It was incredibly simple for me. I successfully completed the Gachagua challenge on the advice of my friends. Since everyone seemed to be enjoying them so much, I then made the decision to continue," he stated.
Do you have a story you would like us to publish? Please reach us at [email protected]