The video of a cat jumping on an iman conducting Ramadan prayers at a mosque in Bordj Bou Arreridi, Algeria, has stunned netizens.
The Taraweeh, a nocturnal prayer during the Muslim holy month of Ramadan, was being led by Imam Walid Mehsas in a crowded mosque in Bordj Bou Arreridj, Algeria, according to the BBC.
Unexpectedly, a cat appeared during the prayer and did something that is now the talk of the internet.
According to a video that was uploaded to the imam's Facebook page on Tuesday, the small cat with orange, black, and white fur attempted to catch the imam's attention by pawing at his leg.
However, the imam paid it little attention.
The cat then leaped directly onto the imam's stomach before climbing up his shoulders.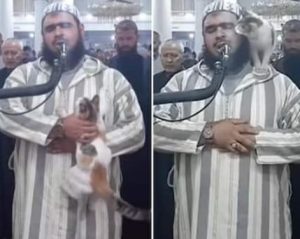 The imam continued to pray without flinching and gave the cat a gentle pet.
The cat then licked the imam's face and stroked his cheek with its tail before leaping off of him.
Here are some of the reactions:
Arin Duman: Cats are a big part of Islam due to the fact they attract and allow angels to enter your home and be around you to protect the home from the devil.
View this post on Instagram

Dewbien Dewbien: For me, it was the way the cat gave him space to kneel and pray.
Deen4Donia: More than most humans, cats and all other animals respect the only preserved words of God on earth.
Abir.abn: the imam saying, "Say, `Then with Allah is the conclusive argument. Had He (enforced) His will, He would have surely guided you all" and the cat kiss.
READ ALSO: Traveling to Dubai? Here's 15 Things You Should Know
The Gentelman: This is the true image of Islam,the peace, love, and mercy with any animal or person or even plants. We need to be all peaceful for the good of humanity.
Do you have a story you would like us to publish? Please reach at [email protected].