Kenyan netizens are mourning the death of celebrated Tiktoker Kevin Oselu, aka Baba Mona, in a horrifying road accident in the Londiani area.
The accident, which happened on Friday, February 24, also claimed the lives of his daughter, Mona, and two of his sisters.
It has now emerged that "unusual" things happened hours before his death.
READ ALSO: Why Kikuyu women make best wives in Kenya
Baba Mona's brother, Albert Oselu, made the revelations when the TikToker community visited to condole with the family.
Car won't Start
It has now emerged that the borrowed car Baba Mona was using failed to start three times until his mother told him to use other means.
However, Baba Mona insisted that he would drive carefully.
"He brought it to his home. When he tried to start it, it failed. He spent about an hour trying to start it. Eventually, it started. At the time, we speculated that it had a mechanical problem.

He called the person from whom he had borrowed the car, and he told him the car did not have any mechanical problems.

The following day, Baba Mona came to collect our two sisters. Again, the vehicle stalled. My mother went and briefly sat in the back seat and said,

"Why does this vehicle appear intent on driving my children to harm?"
Albert revealed the car only started after two failed attempts.
"They left at 6 am, an hour later than the 5am they had planned to leave."

My mother kept calling them all the way. There was no one receiving the phone. My father was informed that the four had died.
Baba Mona was about to branch to Awasi to drop off the two siblings when the black saloon car they were aboard veered off the road and rolled several times, sources say.
This is after he lost control of the car, which ended up in a ditch near the Kipkelion coffee mill in Koru.
The four reportedly perished on the spot.
Baba Mona rise to fame
According to various accounts corroborated by those who knew him, Baba Mona rose to fame after a decade of extreme dedication and focus.
At one point in 2012, Baba Mona was an admin of various Facebook pages.
One of his friends, who worked with him and requested anonymity, said Baba Mona excelled at authoring engaging posts that would go viral.
"He knew what needed to be done and how to do it. He was straightforward and didn't waste any time. He also had a big heart and was very social and sincere," said the source.
The man known as Kevin Oselu would later transform into the character of Baba Mona. His fans were awed by his love for Mona, his daughter.
His videos would go viral in 2022, making him popular on TikTok and other online platforms.
As a single father, the famed TikToker was known to advocate for single mothers, urging society to support them rather than vilify them.
He also castigated men from his Luo ethnic community for vilifying Luo women with claims they were lazy and arrogant.
In his last days, the TikToker asked Kenyans to adjust their lifestyles in line with the hard economic times.
"Consider yourself lucky if you can afford three meals a day. The situation is worse, and we need to adjust to get through the hard times. Recognize that you may no longer be able to afford to go on regular outings. Take your child to a school you can afford," he said in a video recorded days before his death.
The famed content creator had 200,000 followers on TikTok at the time of his death.
He will be remembered for the pieces of advice he gave to all and sundry through his TikTok account, which has an enormous audience.
READ ALSO: Mpenzi Chokuu: He's known as Kenya's sexiest gay. But what's his story?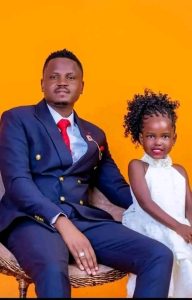 Baby mama
Little is known about the woman with whom they sired Mona together.
Those who interacted with Baba Mona at a personal level say the TikToker never discussed anything about the mother of his daughter.
"Each time anyone would start that conversation with him, he would immediately dismiss the person and start talking about something else. He was a public figure, yes, but this particular part of his life he kept private, even to his closest friends," wrote one of his friends on Facebook.
Do you have a story you would like us to publish? Please reach us at [email protected].