George Ruto has got netizens talking after being captured sharing some light moments with her mother, the First Lady Rachel Ruto.
Well, while it is commonplace to find mothers sharing a great chemistry with their sons, it is not every day that you witness that among the nobility.
The photos captured during a church service at Maryhill Girls High School have netizens talking with some making light comments on the same.
The photos, which have since gone viral, have George and his mom sharing some laughter.
Yet in another photo, George Ruto who is a pilot is captured showing the First Lady something that had both of them tickled.
The show of love between the mother and son has sparked reactions online.
Here are some of the reactions:
Mtu: Lakini usijali daddy alisema from next month CRB wanarudi nyumbani na fuliza pia inakatwa kidogo tu
Constance: No matter how old thé kids bé, they will always be our babies……mother's love.
Max Peter wrote: If Ruto was to respond to his son: 'wewe kijana, achana na Bibi yangu"
Nimmoh wa Kahuria: Mums and their sons.. mine nikiwa church haendi Sunday school anakua big boy but when am not in church atakua Sunday school
Purity Sein: Mum's and their sons. Nothing beats such bonds & worse still in this case , son being Mum's last born child. Relationship is so tight.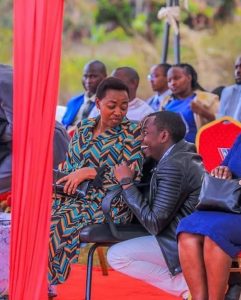 Of course, expect netizens to squeeze some humour from any subject.
Dancan Maragia wrote:
Son: Mum nimeona Mama ya ule mrembo nilikushow. C you invite them statehouse next week.
Mum: hebu kwanza nione picha ya huyo mrembo
Son: Mum ako poa na ni prayerful angalia hiyo picha yake
READ ALSO: Nick Ruto: DP Ruto's son denies gay claims
George Ruto is the youngest of President William Ruto's children with Rachel.
Do you have a story you would like us to publish? Please reach us through info@gotta.news