Apart from the harrowing Covid-19 pandemic that upended life, the year 2020 has seen the birth of new sheng words.
What's more, memes and new slang words that went viral in Kenyan Interwebs served to bring back hope and beautiful smiles.
As the year nears the end, we at GOTTA.news have gathered some of the trending phrases of 2020 that brought a sigh of relief, hope and topped the charts between the haves and the have not.
Oolisikia Wapi

.
This is a famous Swahili phrase that that became popular early in the year that was formulated by Seleman Bungara a former Tanzania Member of Parliament.
A video of him made rounds through the internet why he made the remarks criticizing Tanzania president John Magufuli.
The phrase that has always been there was much hyped after Bungara's pronunciation sounded different,comical and fun.
The phares simply means : "Where did you hear that".
Omoka
Omoko is a sheng word which has been there but became widely used in 2020.
The phrase Omoka or Kuomoka means to make sudden progress in life and abandon the old lifestyle for a new one.
The word became popular amid the ravaging pandemic with individuals who acquired wealth.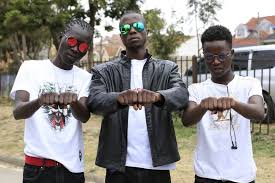 Kujinauwo/ Kuwanauwo
The word was first heard in a popular song by Kenyan gengetone group known as Mbogi Genje who come up with new and unknown sheng words.
The word Nauwo or Kujinauwo means to "Understand yourself" while Kuwanauwo means "To understand other people".
Kuwamocho
The word Kuwamocho means to enjoy or have fun in a way that make you relax in your own way.
The word is also associated with circular musicians Mbogi Genje who always coin out sheng words out of our league.
Ngumi Mbwegze
This word was created by Mbogi Genje in their music song.
The word Ngumi simply means Fist and Mbwegze means Two.
The two words then brings out a meaning of Two Fist.
It is an upgraded greeting from gotta which was used with one fist but with this two fists are use at a go.
Kanairo
The words trended in 2020 from Mbogi Genje's lyrics.
The sheng word means Nairobi. It was extracted from 'Kanairo Govana ni Mjamo' which translates to Nairobi has one governor.
Warazi
Sheng words which means "enemies of people, haters who always wants to see ones failure."
Uwaganis
This word was coined by Madocho.
The word means being Silly or stupid.
In an example: "Uwache Uwaganis" Stop being stupid.
Kitu Peng
A word use to refer to a beautiful lady. Other words words for beautiful ladies bare, Madenge,Madem,Kisaru and many more.
Machingli
This sheng word means 'Money' it was popularized by an upcoming artist identified as TrioMio in his song.
Here is an example: Niko machingli means I have money or I am rich
Wolan/Wagwan
Phares used when you are in agreement with something. It is same as Okay.
Monchoka
This is a sheng word used to call someone.
READ ALSO: Rieng: Excited Dandora youth update DP Ruto with latest sheng vocabulary
Monchoka is same as Chomoka or kuja.
Do you have a story you would like us to publish? Please reach us through [email protected]