A video has emerged on social media showing Ukrainian soldiers helping a captured Russian soldier during the ongoing Russia – Ukraine conflict.
In the video, the captured russian soldier is seen sipping tea and a biting as a Ukrainian soldier called his mother to inform her that her son was okay.
The captured Russian soldier could not hold back his tears while in a video call with his mum while surrounded by people and cars.
In the video call with his mother, the soldier says nothing but keeps fighting back his tears as he sips tea and ends the call by blowing a kiss to his mother.

Reactions
@milenaac: The way he is chugging down that tea and food it seems like he hasn't eaten in days.
@ItIsMashAgain: What amazes me about this is there is absolutely no reason for Russians to be attacking Ukraine. There are so many families spread across both countries. Maybe this bit of humanity will break through and end this insanity. I feel for that Russian soldier and am glad he is OK.
@SarahHe: Just imagine how many other young soldiers have been forced by Putin to shell civilian targets and neighborhoods. Soldiers are to defend their homeland & allies, not invade innocent, non-military, or unarmed citizens.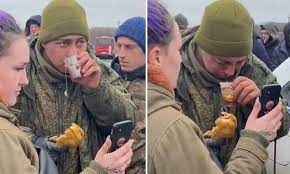 @Gopi0505: What if this is just staged and the soldier is really some Ukrainian in costume.
Russia has so far not commented on the videos released and has revealed very little information about the state of its soldiers fighting in Ukraine.
READ ALSO: Antonov AN-225 Mriya: World's Largest Cargo Plane Destroyed by Russia Near Kyiv
The Russian Ministry of Defence on Sunday admitted that there were dead and wounded soldiers, adding that the number of destroyed Ukrainian nationalists outweigh the number of Russian casualties.
Do you have a story you would like us to publish? Please reach us through [email protected]