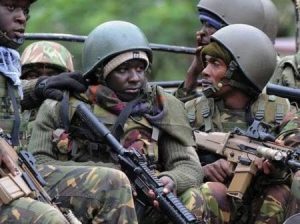 The Ministry of Defence through their official website announced the KDF recruitment dates for Kenya Defence Forces officers to be between November 27, 2019, and December 16, 2019.
The exercise was cancelled on Wednesday, October 16, after protests emerged following changes in recruitment centres from the usual sub-counties to counties.
Candidates who had earlier applied to join KDF have also been urged to submit fresh applications to the Ministry of Defence.
The recruitment will also happen in the usual sub-county centres.
There are stringent requirements that one is required to meet before being recruited into the KDF.
These include; physical and academic requirements for Commissioned Officers (COs) and Non-Commissioned Officers (NCOs).
READ ALSO: KDF ranks and salaries: All you need to know
But among the requirements that have baffled baffled civilians and recruits is why the State demands strong teeth for one to be recruited into the country's defence force.
GOTTA.news has dug for information and we can reliably report strong teeth are an important factor in the recruitment process.
It follows that soldiers can be deployed in areas where they may be forced to survive with near dry rations for weeks if not months and this requires someone with a strong set of teeth.
In the same vein, if you have discoloured teeth with Stains ranging from yellow to dark brown and which is not out of poor dental hygiene, chances are you may be turned away because it could be a pointer of having weak bones.
Flourosis is caused by overexposure to floride. A good example is high levels of fluoride in the local water supply around Eldama Ravine that has so many residents' teeth stained.
Here are the KDF recruitment requirements:
(1) Be a Kenyan citizen with no dual citizenship.
(2) Be in possession of a valid Kenyan National Identity Card. Additionally, 4 Copies of National Identity Card and PIN certificate will be required.
(3) Age – Between 18 and 26 years old for GSO Cadets, General Duty Recruits and Tradesmen/women with Certificate/Government Trade Test, not above 30 years for Specialist Officers, Tradesmen/women with Diploma, and not above 39 years for Chaplains/Imams.
(4) Be physically and medically fit in accordance with the KDF standards.
(5) Have no criminal record.
(6) Minimum Height: (a) Men 1.60m (5ft 3in). (b) Women 1.52m (5ft).
(7) Minimum Weight: (a) Men 54.55 Kg (120 lb). (b) Women 50.00 Kg (110 lb).
(8) Female candidates must NOT be pregnant at the time of recruitment and during the entire duration of training.

Minimum academic qualifications include:
(1) General Service Officer (GSO) Cadets
Must hold a minimum mean grade of B (Plain) in KCSE with at least C+ (Plus) in English, Mathematics and one Science subject.
The training period for this category will cover three (3) years leading to a BSc degree in Military Science and Security Studies upon completion.
(2) Specialist Officers
Must hold a minimum mean grade of B (Plain) in KCSE with at least C+ (Plus) in English, Mathematics and one science subject.
Must be a holder of an undergraduate degree from a recognized University/institution and be registered with a statutory body where applicable.
The training period for Specialist Officers will not be less than three months.
(3) Servicemen/women (General Duty) Recruits
Must hold a minimum mean grade of D (plain) in KCSE.
(4) Tradesmen/women
Prospective candidates willing to apply must satisfy the conditions and requirements given below.
(a) Technicians. A minimum mean grade of C (Plain) in KCSE, a relevant Diploma or above from a recognized Institution and be registered with the relevant statutory bodies, where applicable.
(b) Artisans. A minimum mean grade of D+ (Plus) in KCSE and either a relevant certificate with Government Trade Test Grade II or Craft II from a recognized Institution.
(5) Constables
(a) Be a retired Kenya Defence Forces Service Member or a retired National Youth Serviceman/woman.
(b) Be between the ages of 30 and 55 years old for retired KDF and betw
een 35 and 45 years old for retired NYS.
(c) Possess a Discharge Certificate with a minimum rating of "Very Good" in conduct.
(d) Must have served for at least 9 years Colour Service and retired honourably from KDF.
The ministry however insisted that bribery and other acts of corruption are against the law and anyone who will be caught shall be arrested and prosecuted.
According to the contents of the announcement, those willing to join the KDF must meet certain general conditions.
Do you have a story you would like us to publish? Please reach us through info@gotta.news