Cancer can be defined as the uncontrolled growth of abnormal cells in the body. Cancer treatment in kenya is expensive and resource draining.
Cancer develops when the body's normal control mechanism stops working.
Picture old cells that do not die and instead grow out of control, forming new, abnormal cells. These extra cells may form a mass of tissue, called a tumor.
Some cancers, however, such as leukemia do not form tumors.
Cancer has claimed many lives in Kenya mainly as a result of a deficiency in cancer care services.
That notwithstanding, Kenya prides itself in having some of the best hospitals in the continent that offer cancer treatments.
Here is a list of 10 hospitals that offer cancer treatment.
1.Aga Khan University Hospital
A first of its kind in East Africa, the centre provides high quality care and treatment based on international standards for a full spectrum of cancer conditions. Some of the services the hospital offers in cancer includes:Outpatient cancer care,Breast centre, Branchytherapy for cervical cancer treatment,Palliative Care,Chemotherapy,Radiation therapy and CT simulator for radiation therapy planning. The hospital is located in Limuru Road, Parklands, Nairobi, and you can reach them through. : +254 (0) 20 366 2037/2644, +254 (0) 732 688 911.
2.Coast Province General Hospital
The hospital provides cancer screening, chemotherapy and surgery. It has a fully fledged cancer ward Rahimtullah Ward dedicated to cancer patients. The Mombasa County government is striving to equip the ward with equipment and personnel. The county government has sponsored a few doctors to pursue oncology abroad. It is located in Kisauni Road, Mombasa and can be reached through: +254 (0) 41 231 4204, +254 (0) 722 207 868, [email protected].
3.Texas Cancer Centre (TCC)
Specifically, for cancer and cancer related diseases. The centre has developed a comprehensive and patient-centered treatment plan that takes into consideration the complexity of the treatment choices. Some of the services they offer include Linear Accelerator Radiotherapy, Chemotherapy, Cancer screening and creating awareness, Palliative care and 24 Hours In-patient care/Emergency. You can find the centre at Argwings Khodek Grove, Hurlingham, Nairobi, +254 753 623 971, +254 20 262 3605.
4.Kenyatta National Hospital
This is Kenya's national hospital. Although it is an overall hospital, the hospital has a cancer department which provides cancer screening, diagnosis, treatment (including chemotherapy, surgery, radiotherapy and palliative care).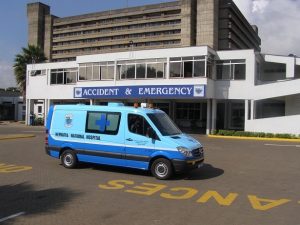 5. Mater Hospital
Apart from treating heart conditions, which is known for, the hospital also offers leukemia, breast, cervical and prostate cancer testing services; surgery for malignant tumors; general and cancer management services. The hospital has numerous branches across the country but it's headquarters is along Mukenia & Dunga Road, South B, Nairobi, +254 (0)20 653 1199, +254 (0)733 641 870, [email protected].
6. M.P. Shah Hospital/Cancer Care Kenya
M. P. Shah Hospital has an oncology Centre and is affiliated to the HCG: Cancer Care Centre, a one of a kind in East and Central Africa in providing quality oncology treatment. Equipped with linear accelerators offering MLC conformal therapy, CT planning and a 3D conformal planning suite, Cancer Care Kenya is among the first Oncology Centre in East and Central Africa offering world-class standard services for the treatment of cancer. Find them at Shivachi Road, Parklands, Nairobi, 0733 606 752 (MP Shah), +254 20 374 0132
7. Moi Teaching and Referral Hospital
This is one of a kind since it does not only offer treatment but also teaching on cancer. The referral hospital also offers screening, diagnosis, and treatment (including palliative care).
8. Kijabe Mission Hospital
The mission hospital offers cancer screening, chemotherapy and surgery treatment for several cancers (primarily breast cancer), Kaposi's sarcoma and surgically treatable cervical cancer. They also provide palliative care.
9. The Nairobi Hospital
The Nairobi Hospital Cancer Treatment Center is housed in The Nairobi Hospital (TNH) – a tertiary hospital found in Nairobi city. It houses a team that provides seamless care needed in diagnosis of cancer investigation, surgery, treatment, nursing, rehabilitation, palliation & supportive care. Get them at Argwings Khodek Road, Nairobi, 0722 204 114, [email protected].
READ ALSO: Anjlee Gadhvi: K24 anchor succumbs to cancer – GOTTA.news
10. Beacon Health Services Cancer Treatment Center
This facility is located along 5th Ngong Avenue in Nairobi. It provides cancer diagnosis and outpatient services.
Do you have a story you would like us to publish? Please reach us through info@gotta.news